We work with sales and vacation rental of notable properties in Paraty and in Laranjeiras Condominium. We possess another website, more complete, with all the properties available:
www.acparaty.com.br
To contact us:
Office Telephone:
(24) 3371-7428 (if there´s no answer it´s probably because we are out with clients or visiting properties, please try our mobile phones…)
Mobile Telephone:
Eduardo (24) 9224-9035
E-mail:
eduardo@acparaty.com.br
Address:
26, Tenente Francisco Antônio Street, Historic Center, Paraty-RJ (near Rosário Church, Pousada do Sandi and Pistache Ice cream Parlor)
Real estate websites:
www.acparaty.com.br
(main) |
www.imobiliariaparaty.com.br
|
www.paratii.com.br
Websites about Paraty:
www.paraty.tur.br
(main) |
www.visiteparaty.com
Why work with us?

Because we are specialized in real estate in the city of Paraty.


Because we carefully choose the properties we offer


Because we know the environmental laws of the city well


Because we do not over-price


Because we value the preservation of the heritage and environment


Because the client who buys with us will not have any expenses.

Our Mission Statement:
To intermediate business which values the heritage and make our clients' dreams come true in a safe manner.
About the prices of the properties:
The prices are given by the owners and shown in the website without being altered (there may be differences or typing mistakes). Andrade & Cermelli does not work with premiums and over-pricing.
Exceptionally some proprietors choose not to announce the price of their properties on the internet (usually inns and high-value properties). In such cases, we are only authorized to provide the price personally.
About Us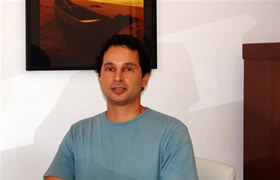 Eduardo La Regina de Andrade:
Graduated in Business Administration at PUC-São Paulo, he has visited Paraty for more than thirty years. After sailing for four years in Brazil and in the Caribbean, he has chosen to live in Paraty. As a realtor, he has taken several specializing courses in real estate and environmental law. He has done research and created a website on Paraty, www.paraty.tur.br. At the real estate agency he is responsible for the properties in Laranjeiras Condominium, on islands and on the coast. He is also responsible for foreign clients, since he is fluent in English.
Visit other websites managed by us:
www.paraty.tur.br

www.golfe.tur.br

www.brazilgolfresort.com

www.praiadosono.com.br

www.paratypousadas.com.br

www.hotelparaty.com

www.paraty.art.br

www.imobiliariaparaty.com.b

www.visiteparaty.com

www.agenciaonline.com.br

www.cafeparaty.com.br